Writing at beginning.
After 2 days work, uploading 2 projects to GIThub, to build the Group of CHESSduino on it,
the community know start to running. the day is 2016/11/22.
I like to any speacil date, finding other meanings to remember it.
such as 11,22,33… like the puzzle games.
I hope the 2 projects could become thousands of games' first 2.
https://github.com/CHESSduino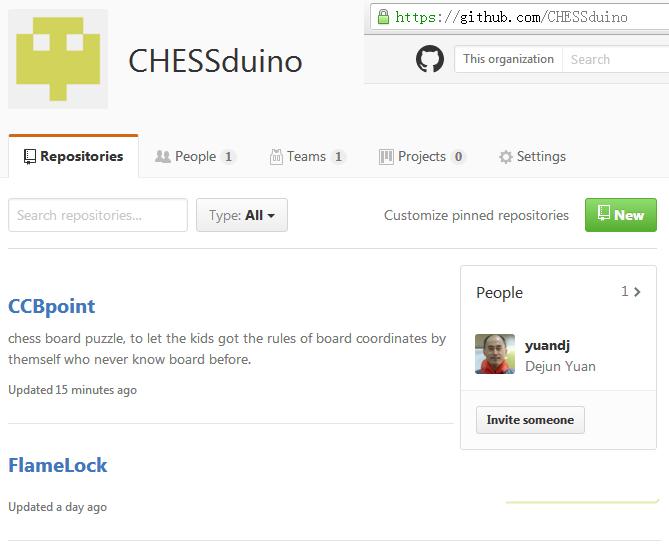 CCBpoint the newest project:
https://github.com/CHESSduino/CCBpoint

chess board puzzle, to let the kids got the rules of board coordinates by themself who never know board before. This project come from FlameLock, the sample of RFID module usage. The RFID module be developed by microduino company, start for flamechess volunter project. Electric board be developed for remote training of mindgame, and the price or cost was important for kids, more cheaper more lots of kids can use it. At begining, designed 64 RFID modules be used as one board, using 32 ID chips as chess pieces, Using CCBpoint, Only 1 RFID module need, replace cost 64 ID chips for one whole board, 1 ID 1$.

this game just show the principle of the POINT method, the real project need more service added, not suit to openit. At Futual will open it, by find newest method to make the boards.

for more detail, Welcome to view the team Website: http://CHESSduino.org

Dejun Yuan founder of flamechess A volunter team for mindgames in Beijing china. 2016/11/22

PS: any question pls email me: yuandj1972@163.com
Also Microduino in it, but only 1 RFID module needed:
 & 
Core+ 64k version: mCookie(left) & Microduino(right)


9 RFID modules connectioned with cables.

 & 
9 coils for each RFID modules, 2 version of them: Separated circuit board (left) & exposed coil on back of RFID module, all connected with cables.

(ps: come from http://flamechess.cn/duino/?page_id=2)
Using BLE bluetooth module to communicate with Andriod phones:
 BLE mCookie


that's all modules and 64 id coils,
seprated by 4 parts, each 16 coils


CCBrobot come from CCBpoint, the final release version of FLAMEchess cloud board robot. It stand on the electric board with 64 rfid id coils under the board.